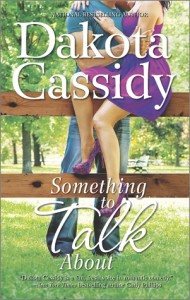 (4 / 5)
Okay, remember when I said Talk Dirty To Me was a solid summer read…..well forget that. Talk Dirty To Me is a total set up for the much better (I mean the first book was fine, just not the best I'd ever read) sequel Something To Talk About.
First, be ready for nearly two solid chapters of hardcore summarizing from the first book. Totally annoying, but well worth the wait. It's been two months since we left Plum Orchard, and Emmaline Amos's life has not improved. Her boys are getting bullied daily for their father's sexuality. That father is all but non-existent when it comes to fiscally or emotionally supporting his sons. The whole town is talking about Em like she's a hussy since she works for Call Girls. To make matters worse, Em thinks she might actually be a hussy because she really wants to get laid. Enter Jax Hawthorne. They shared a sexy stare right before Em lived the most embarrassing moment of her life. Now they're coworkers at a phone sex company. Awkward. Still, Jax makes all the right moves. Em eventually falls for his charms, but she insists on sex with no strings. Being a single dad, Jax can live with that. Unfortunately, it's hard to keep it simply sexual, when both Em and Jax need each other for much more.
I loved Emmaline from the first book. She was a chronic scene stealer. I am so happy she has her own book. Jax is super hot, and the good dad in him makes him super hotter. I loved his relationship with Maizy. His fierce protectiveness is endearing. Seriously, you'll fall in love with Jax at first read. Em's life is complicated, at least for her. She is testing out her new life as an independent, single woman. My heart broke for her as she tried to deal with her boys problems. Luckily Jax and the amazing Maizy go to bat for Em and her boys. Bottom line, this book seems like a pretty cut and dried romance, but the hero and the heroine have lots of growing to do and lots of secrets to unravel. The sex was fantastic, way more believable than the last book (these two characters at least like each other), and there's way more of it. Em's final confrontation with the awful Louella is totally kickass. I'm interested to see where she goes next as a villain. The super surprise at the end with Dixie is equally fab, if contrived. I may love a romance, but I adore the story of best friends falling deeper in love with each other. Dixie and Em forever!
Now I'm onto the third installment where Marybell (I always think of her as a punk rock Tinkerbell character) finds her handsome man while her past catches up to her.