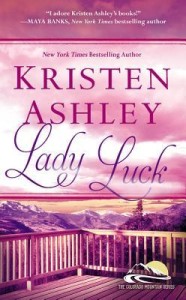 (5 / 5)
Okay, I love Kristen Ashley, but I gotta tell you, this is the ABSOLUTE, no doubt about it, best book she has written (at least that I've read so far).  It is super hot. It is super sweet, and it is super heartbreaking.
Ty Walker is a man done wrong.  After serving five years for a crime he did not commit, he walks straight out to Lexi Berry.  Lexi's life hasn't been so good the last five years either.  After her pimp boyfriend was murdered on the job, his drug dealer best friend has made it his business to keep Lexi on a short leash. Her latest assignment: pick up a convicted killer and take him where he wants to go. Ty's destination of choice: a Las Vegas wedding chapel. Ty needs a rock solid alibi for his grand plan 'o vengeance, and a new wife fits the bill. What follows is the most bizarre and engaging whirlwind romance ever. That is until Ty (or arguably Lexi) screws it up. In the end, Ty has to decide which is more important Lexi or his revenge. The answer seems simple, but not when dirty cops, drug dealers, and a mysterious stranger are on your tail.
Ty is a total Hottie McHotterson, but you gotta be ready for his dirty mouth. This is the raunchiest talking, especially his "endearments" for ladies,  hero I've ever read from Kristen Ashley, and I've read a few.  It's totally explainable once you get his back story, but that mouth gets Ty in trouble more than once. Still, he's so sweet to Lexie (most of the time) and he wants to be loved so much, it's easy to get over his dirty mouth, especially when it's responsible for so much dirty sex. Lexie is a total goof. I loved her from the start. She's definitely making lemonade from a life of lemons. She's believable and smart. She's got a backbone of steel too.
Now, while I loved the characters (as always with KA books), what really sold this book was the heartbreak. Lexie and Ty's rocky relationship definitely has some down swings. The final one broke my heart. I could feel Lexie shutting down. I could hear her empty voice. I love a really good break up, and there are so few gut-wrenching ones in most romance stories.
If you only read one love story this year, this is the one. If you only read one KA book, this is seriously the one. It's the best ever. (Sigh!)