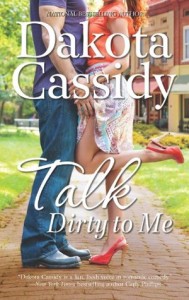 (3 / 5)
I picked up Talk Dirty To Me for a quick vaca read the night before I left for Disney World. So 400 pages may not be the best choice for a week in the Happiest Place on Earth, but it definitely kept me hooked despite my week-long, utter exhaustion (and I totally finished it the day after returning home).
Dixie Davis spent her youth being the meanest girl in Plum Orchard. She lied, cheated, and manipulated her way to the top. Now, in her 30's, she returns home broke, friendless, and heartsick. Through an unusual turn of events and her devastating debt, Dixie is forced to compete with her ex-fiancée to win a multimillion dollar phone sex company. All she has to do is bring in more new clients than Caine Donovan. It should be easy, right? Still, Caine is determined to win. Dixie's lies broke his heart and his spirit 10 years ago, and he's ready for a little payback. He doesn't believe Dixie is any different than the day she rode out of town. He wants to stomp her dreams of financial solvency and send her right back to the big city where she belongs. Still, this new kinder, sweeter version of Dixie is getting under his skin. Will Caine be able to stop himself from falling head over heels in love with her, again?
Here's the deal, the premise is totally ridiculous. (I think I say that at the beginning of every review I write.) If you can just hold on for a chapter or two, though, the story will pick right up. Dixie has no pride when it comes to making ends meet. It made me fall in love with her almost immediately. On the other hand, Caine is pretty unlikable at first. His anger borders on the psychotic. He keeps referring to "the bet" that drove them apart as the cause of his heartlessness, but you don't get to know what "the bet" is until halfway through. It is pretty bad and makes Caine's behavior more explainable. Still, Dixie wears his defenses down. In the end, their romance is sweet and seductive. There are a million flashbacks to Dixie's mean girl days. Many made me laugh out loud. Still the person who really steals the show is Emmaline. She's a supporting character in this book. Still her budding friendship with Dixie is almost sweeter than the love story. Also, Emmaline is the funniest character in the book. She uses great one-liners to poke at Dixie and Caine (aka Mr. Smexy). Her back story is painful, and I really wanted to see her get a happy ending (which she did with Dixie), too. However, I'm going to have to wait for the next book for that to happen.
Guess what's next up on my reading list….
Bottom line, this is a solid summer read, and I'm starting Something To Talk About as soon as this is posted.