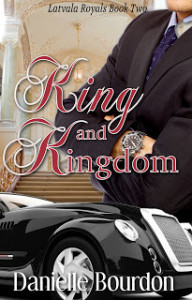 (4 / 5)
Chey and her Prince Charming are back!!! I love this couple and this series. I started the second book about 10 minutes after I finished the first in the series.  What can I say? I'm a sucker for a fairy tale romance.
King and Kingdom picks up a few days after Heir Untamed leaves off.  Chey has officially decided to stay in Latvala and be courted by the gorgeous and incredibly cunning Prince Dare.  Guess who's not happy?  Every other royal (except Mattias, always except Mattias).  After a last minute romantic getaway goes terribly wrong, Chey finds herself back in Seattle with no way to contact Sander.  She and her best friend quickly come up with a scheme to win Sander back, but it seems someone more devious is just as determined to keep the lovers apart.  Chey must decide if Sander is worth risking her life for one more time.
Like I said, I couldn't wait to get my hands on this book.  I didn't think the last book wrapped up the mystery well enough, and I was totally right.  There are some dark forces at play in the Latvala palace, and I'm still not sure I can pin them all down.  Sander is super dreamy throughout the book.  Chey is off her game but with good reason.  She has to watch the love of her life do the unthinkable.  The scene (you'll know it when you read it) is killer. I had to stop myself from throwing my Kindle across the room. Don't worry though.  You can always count on Sander (and Mattias) to come through in the end.  I can't wait to read the next book.
Plot:
(4 / 5)
This series has more twists and turns than a roller coaster.  I'm always guessing until the end with these books, and that doesn't happen often.
Writing:
(3 / 5)
I really only take this down one star because of the sudden introduction of Chey's best friend.  Her omission from the first book seemingly calm reaction about Chey's sudden disappearance to Latvala and mysterious return don't ring true. However, once you get past the initial weirdness, it's fine.  She's total best friend material.
Characters:
(4 / 5)
I heart Sander and Chey.  They are great together.  They're great apart.  The villains are fabulous to hate.  I only wish I got to see more Prince Mattias in this book.