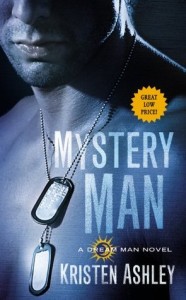 (4 / 5)
Good thing Cabe "Hawk" Delgado is the hottest guy on the fictional planet, or this book wouldn't work at all.
Gwen is unlucky in love (huge understatement), so when a sexy stranger offers up a one night stand, she thinks it's the perfect solution to her dry spell. Fast forward a year and a half, Mystery Man is still showing up for nights of spectacular sex, and Gwen still doesn't know his name. (I know, right. It's a tough set up, but it will be worth your suspension of disbelief, I promise.) Despite her X-rated nights, Gwen still lives her days as a regular person with a job and friends and family. Really, everything else about her life is normal, until her sister's best friend shows up threatening to hurt Gwen if she doesn't produce her sister. Unexpectedly, Gwen's Mystery Man shows up in the daylight hours after this threat and decides he's going to protect Gwen from the consequences of her sister's dangerous actions. Gwen's not so sure she wants Mystery Man's (aka Hawk) help, especially since a handsome detective and a bad boy biker have are offering her their own brand of safety. What's a woman to do?
Like I said, the initial premise is super hard to swallow. If some dude was sneaking into my house regularly with the intent of getting lucky, I'm sure the police would be on my speed dial. If you can get past that particular reading speed bump, this is a fast-paced, fun story. Hawk is hot and has maybe the saddest back story I've ever read. While he protects Gwen and her family from some serious bad guys, Gwen is the one really doing the heavy lifting trying to bring Hawk to the other side of a soul sucking tragedy. The ending is of course happy (or I wouldn't recommend it). The novel sets up a fabulous series of stories which focus on scary dudes trying to keep the world a little safer and the women who can help them lighten that load. Read these books!!!
Plot:
(4 / 5)
This book grabbed me by the throat about a chapter in and didn't let go. Every time I thought I knew where the story was going, I got thrown for a loop. Gwen's little sister is a perfect foil for Gwen's do-gooder nature. The side plot of three men trying to win Gwen's affection keeps the slower paced parts of the mystery moving. I did not want to put this book down.
Writing:
(3 / 5)
This is your typical Kristen Ashley novel. There's a bit too much verbiage about the decoration of Gwen's home and what she chooses to where. Hawk uses the word babe as subject, verb, and adjective. Still, this lady knows how to tell a story.
Characters:
(5 / 5)
Characters are where all KA books knock it out of the ball park. I loved the Hawk and Gwen, of course, but the side characters make the book sparkle. I love two of the three other "dream men" in the book. Gwen's family is believable and tender. I especially love her step mom. She's a breath of fresh air from the typical evil step mom script.